I made my first sloe gin this year. Being of an impatient bent (and being a bit of a shed/workshop dabbler) I didn't prick the sloes by hand.
I made a "spiky bit of wood" (tm):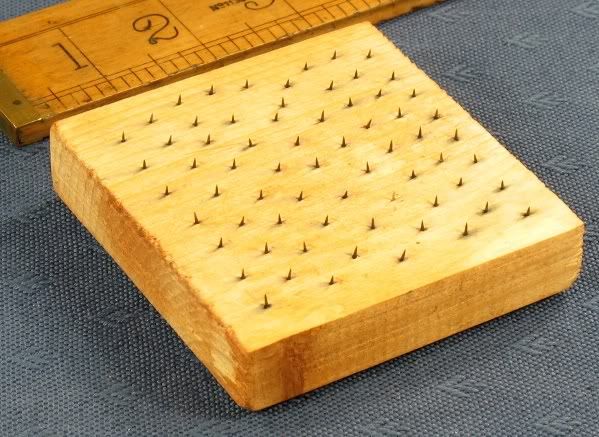 The spikes (after experimentation) protrude by roughly 2.5 mm.
It didn't work quite as envisaged, since sloes vary in size; however, I found the following procedure was effective:
* put a batch of sloes on one side of a board
* pass your hand over them, thus moving the (uniformly) largest sloes to the otherside of the board
* rub the sloes with the "spiky bit of wood"
* repeat (with gradually smaller sloes) until batch is done
This is MUCH quicker than using a needle, and (in practice) pricks the sloes more.
Now, a friend also makes sloe gin (and has for many years). I have one bottle from her. The bottle from her (after experimental tasting over new year) was far more "ginny", and much less fruity than mine. Both batches were made at the roughly the same time, and (by coincidence) from the same gin (Morrisons's own brand).
So the question: have I discovered a wonderful way of accelerating the sloe gin process, or have I committed a well known error - is slow-made-sloe-gin better?
BugBear